As far as the question about the Daisy 195/33,  I have seen no documented information by Daisy of a 195 model 33. They could have designated a 195/33 somewhere but I can not find anything.   I have looked at all tags I have images of, parts catalogs and Daisy ADs from 1932 to 1938.  What I believe is there was a 195/32 model and then that model was updated with a branded stock (got rid of the paper decal stock) but Daisy never changed any documentation from the original 195 release, and did not give the 195 a new model number until 1936 when a new design (and totally different gun) was introduced - the 195 model 36.  Instead they referred to the original 195 (32/33) as the 195 with no model number. You can see this in the 1938 parts list.
Below are images of tags and parts list from 1938.
The two tags are different with the titles varying by font size, and one part number difference (the shooting barrel).  Do not know if that is because they changed something on the gun  itself or just changed the part number.  The stock images on the tags still show the paper label.  None show the branded stock as documented in Gary's book as the one referred to as the 195/33.  But daisy was somewhat lazy in updating parts list images...
( believe this tag is post 1932.... say  1933 -1938 because of the shooting barrel part number)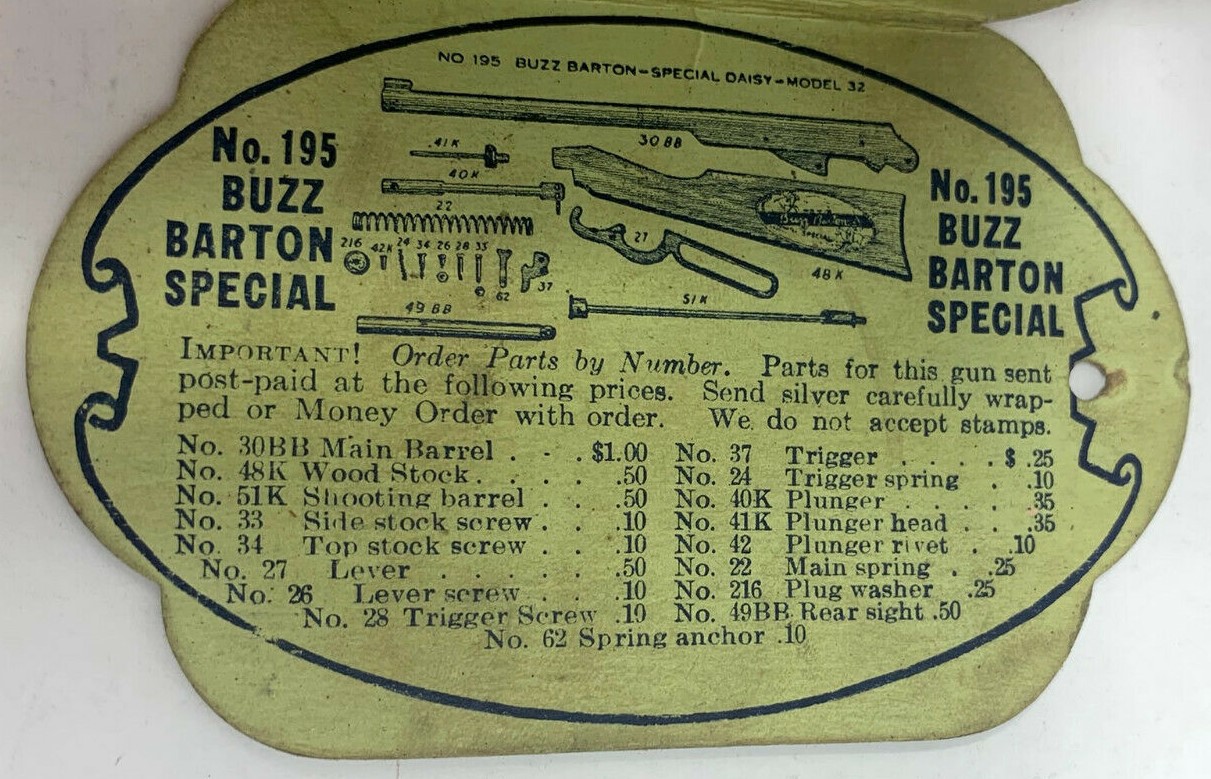 (I believe this tag is from 1932/1933)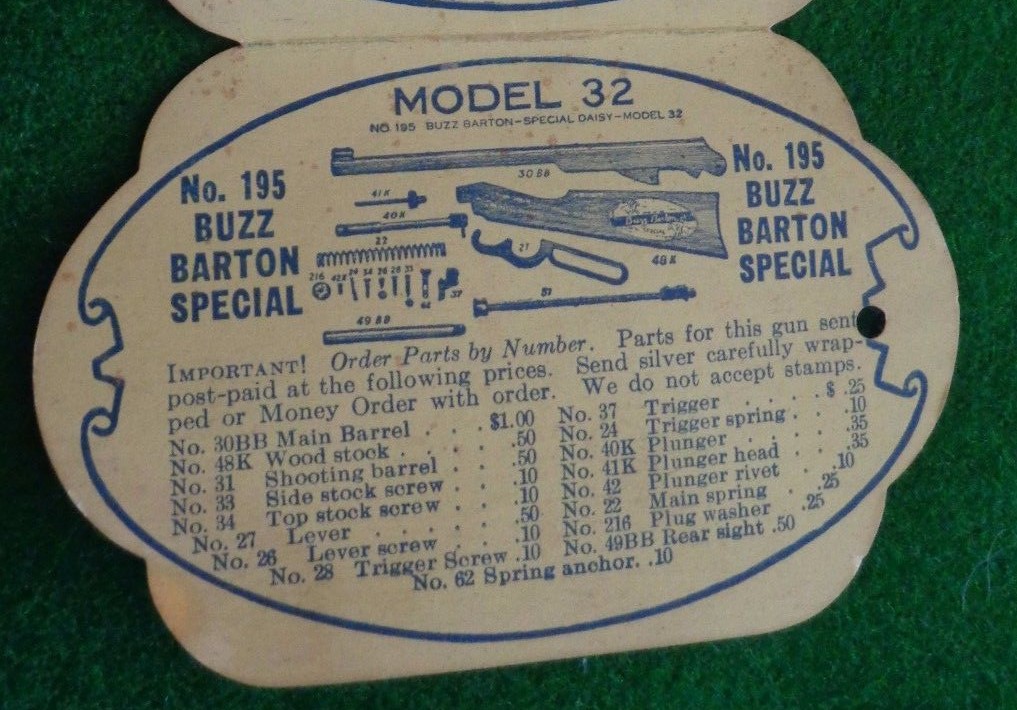 The following images are scans from a Daisy 1938-May 1st PARTS CATALOG.
WHAT I NOTICED FROM THIS IS:  (and all my assumptions)
The 195 Buzz parts list in 1938 catalog (with no model number) has the same parts list as the first tag above ( with the small model number 32 title).  I would assume that tag is from the later year's rather than from 1932 (the one we refer to the 195/33?????).
The 195 tag with the big 32 model number is then the earlier one (most likely the one referred to as 195/32).
Interesting Daisy did not refer a model number to the first Buzz model in this parts catalog.
195 parts list (with no model number) shows the complete gun with the branded stock, but parts images show the stock with the paper label.  ????
Both tags and the catalog parts lists use the same part number for the stock.  Don't know how you be able to specify the paper label stock or branded stock if you were ordering one?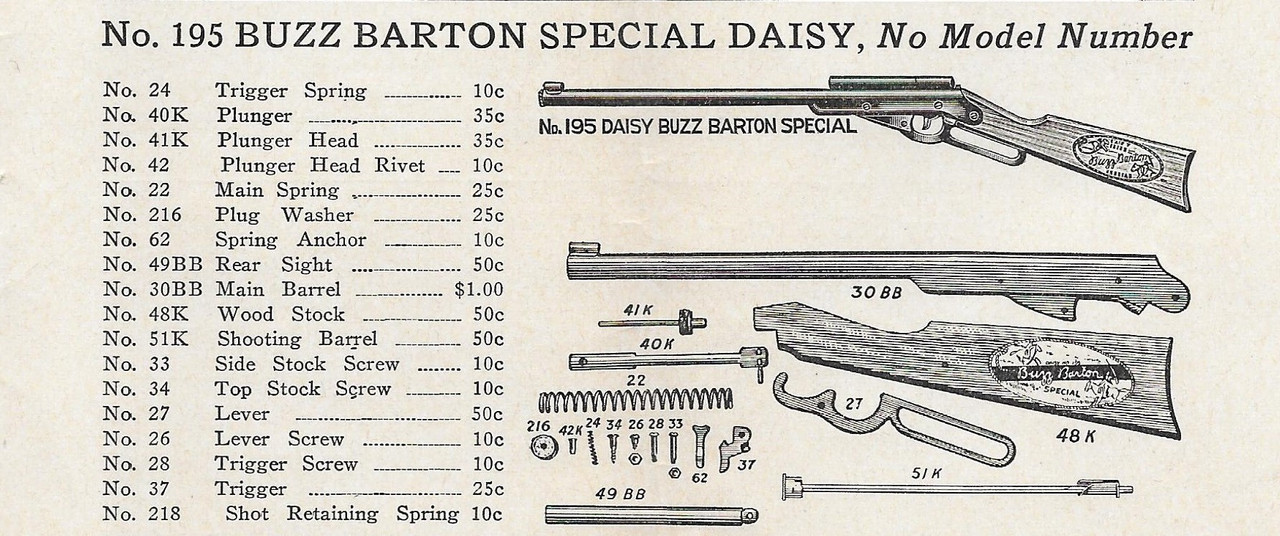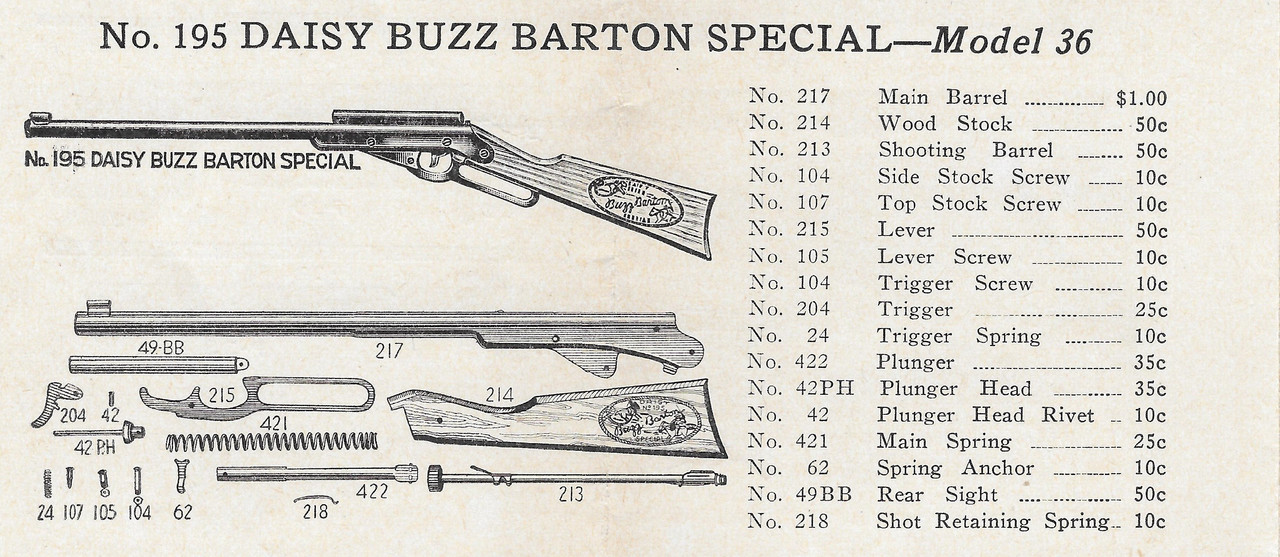 Just to complete all the parts lists, here is the parts list for the 103 model 33

page from the 1938 catalog showing  the 195 parts list