A little info and some images for those interested in the Christmas Dream model Red Ryder as seen in the holiday classic
A Christmas Story
.
There have been three models of the Christmas Dream produced by Daisy. Starting from the bottom and working up, this picture shows originals from 1983 (cardboard and cellophane packaging) and 1984 (box), 2003 20th anniversary model, and 2008 25th anniversary model.
Prior to 1983, Daisy had not produced a Red Ryder with compass and sundial. (When Jean Shepherd wrote the story that later became
A Christmas Story
he was actually thinking of the Buck Jones model which did come with a compass and sundial.) Following the release of the movie, Daisy did produce the Christmas Dream model, which was similar to the rifle little Ralphie wants for Christmas. These were manufactured in 1983 and 1984 so original rifles will have lot numbers beginning with either a 3 or 4. Surplus stocks were sold off by Daisy after the production run, and sometimes show up loose or attached to non-original rifles.
The Christmas Dream model was sold in packaging similar to other Red Ryders with the only addition being the special
A Christmas Story
sticker.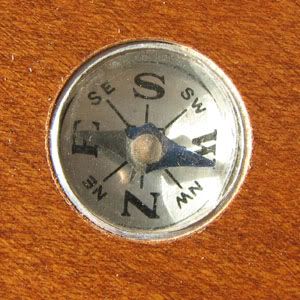 The early Christmas Dreams had a small compass that was a little larger than a dime. These were made by multiple manufacturers, so while the size is similar, the markings are different.
Packaged with the rifle was a small card that had directions for using the sundial on one side, and a brief history of the sundial on the other.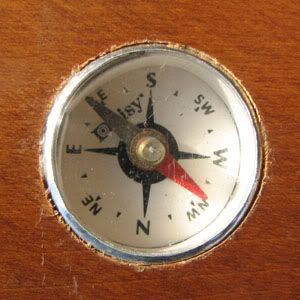 Later Christmas Dreams featured a larger sundial with the word Daisy inside. This one is a 1984 as indicated by the lot number beginning with a 4. There has been some speculation that all originals were sold in the cellophane packaging, but this boxed version was purchased from someone who had owned it for a long time, and it also came with the remains of the sundial directions that had been used as a target.
In 2003, Daisy released a limited run of 1000 20th anniversary Christmas Dream Red Ryders. These were ordered from through the Daisy Museum, and featured the signature compass and sundial as well as laser etching of the rifle's number.
Again in 2008 Daisy produced an anniversary model, this one marking 25 years since the release of the original. 1500 were produced, and as with the 2003 model, they were ordered directly through the Daisy Museum.